INS Mod Wiki
INS Mod is a Gang Garrison 2 mod that adds over 30 powerful and unique
classes
.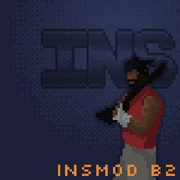 This mod is different from most other GG2 mods that only modify sprites, or add different features to be compatible with regular GG2. INS Mod offers a totally new experience with high-quality sprites, and innovative gameplay.
Official thread where you can find some information and download link is here (you must sign up to the forums to see the download link):
http://www.ganggarrison.com/forums/index.php?topic=29046.0
History
INS Mod began as a small sprite replacement/proof of concept build that RebelINS designed and sprited, and ADM1 coded. It originally sprung from an idea to make Vein ride a bike controlled with gunspins.
thumb|left|300px|original build
This idea eventually grew into an idea to incorporate all of INS clan as new characters with wildly overpowered weapons and abilities compared to the regular GG2 classes.
RebelINS started a long line of videos that showcased a preview of each class as they were added.
Development Team
Creator, Lead Coder, Lead Designer, Lead Artist: RebelINS
Assistant Artist: Killah Zillah
Lead Writer: Meower (haha oh wow)
Assistant Writer: Acidlead (Hi, I'm AcidLead. I'm here to annoy you with useless insights and recollections as I work the part of Lost Rebels benchwarmer.)
Assistant Designer: Vein
Art Contributions: Killah Zillah, Blu Dragon, Ryo, Yukoviz
Code Contributions: ADM1, Killah Zillah, Blu Dragon, Ryo
Playable Classes
| | | |
| --- | --- | --- |
| Red Team: | Blue Team: | Neutral: |
| | | |
Strategy
Ad blocker interference detected!
Wikia is a free-to-use site that makes money from advertising. We have a modified experience for viewers using ad blockers

Wikia is not accessible if you've made further modifications. Remove the custom ad blocker rule(s) and the page will load as expected.